Success Story: Joe's Hair Regrowth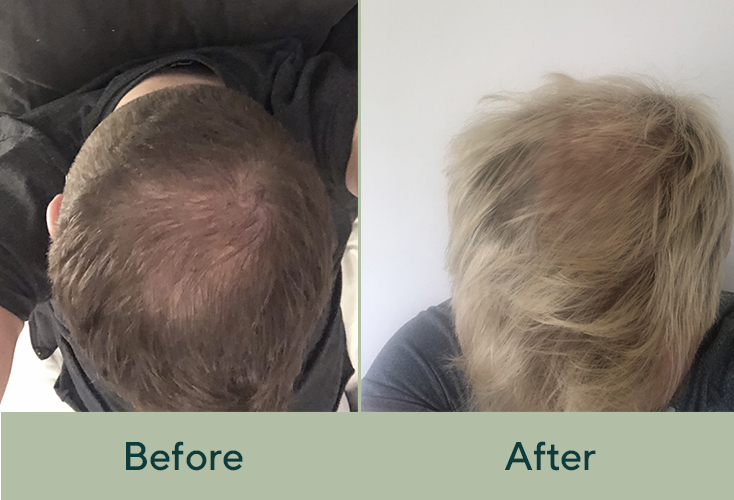 Joe first noticed hair loss 3 years ago
Self-consciousness meant he kept it to himself
His friend recommended taking supplements
Finasteride has had impressive results
"I was self-conscious about it – and possibly in denial."
Joe first noticed it in a changing-room mirror: his hair was thinning on his crown. His initial reaction was panic – there was no history in his family of Male Pattern Baldness (MPB), so this had come as a shock. Joe was self-conscious, so he didn't talk to his friends about it. Looking through old photographs, however, he could see that he definitely had a lot more hair a few years ago. He decided to open up.
Luckily, talking proved useful. A friend in New York said he'd been using products to maintain his hair for some time, and he'd found them beneficial. It was the tip Joe needed. Rather than worry about how to hide the appearance of his thinning hair, he now had an idea for how to tackle the problem head-on…
"It was a friend who recommended that I give this a go."
Taking Back Control
Spurred by his friend's advice, Joe took to Google and quickly found Manual. What initially struck him was how user-friendly the website was: he could see useful statistics alongside recommendations. Most helpful for Joe, however, was the questionnaire. It was simple to fill out, and helped him understand exactly what he was experiencing – and he realised other men had exactly the same problem.
In fact, Joe's condition is very common. While most men aged 70+ experience MPB, it also affects 30% of men by age 30. Manual's hair loss treatment, on the other hand, is a fuss-free way to take back control.
Finasteride helps prevent your body from creating dihydrotestosterone (DHT), the hormone that causes your hair follicles to weaken and shrink. It's proven effective in 85% of men, with 98.6% of participants in clinical trials continuing to take it afterwards – as they experienced no negative side effects.
"It made me realise that other men are suffering from this as well"
The Results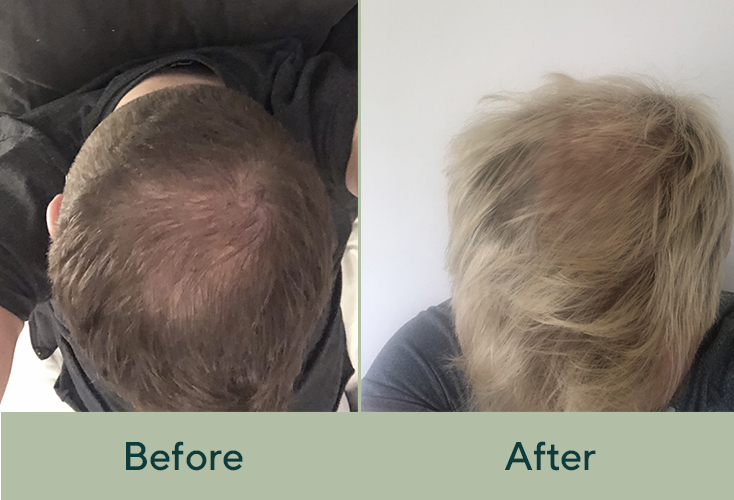 Joe has been using Finasteride for a year and he's very happy with the results. The treatment consists of oral tablets taken once a day – which he's found easy to build into his routine – and it's noticeably improved the appearance of his hair, with increased thickness and better texture. It's also given him a boost of confidence, as seeing the outcome puts his mind at rest.
Hair Loss: It's Reversible
If you have a family history of MPB, hair loss can feel like your fate – but even if, like Joe, it comes as a surprise, it's easy to feel helpless. Hair is a key part of our identity, but it's a part that many men relinquish. 70% of men aged 70 have MPB, and 30% of 30 year-olds suffer from it. When the choice appears to be between baldness or expensive hair transplant surgery, most opt for the former.
Fewer people know that there's a third option. Finasteride is safe, clinically proven, and affordable – and side effects are extremely rare. By inhibiting dihydrotestosterone (DHT), the hormone that weakens your hair follicles, it tackles the problem at the root – literally.
We're really thankful to Joe for sending in his story. Losing your hair can be hard to open up about, but starting a conversation is the best way to inspire others to find a solution.